One central search that integrates SAP SRM and non-SRM branch offices

Many others have tried and failed to use electronic catalogs for steel procurement in the automotive industry. The procurement solution deployed by the Stuttgart-based automobile conglomerate has cataloged steel for the first time ever and integrated its procurement into the e-procurement process. Furthermore, over the last two years, Daimler has rolled out the Heiler catalog internationally as its central procurement solution. As part of the rollout, it was necessary to integrate branch offices that did or did not deploy SAP SRM.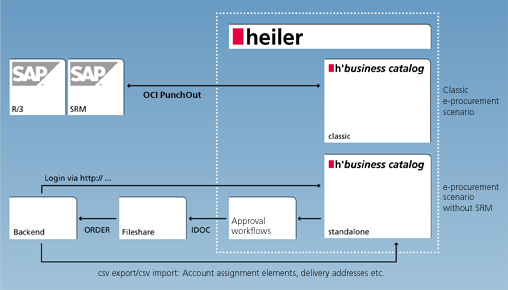 Ordering via electronic catalogs is a central e-business initiative in the purchasing departments of the automotive manufacturer Daimler.

The Benefits:
Single point of search: One central catalog session with central content management of all materials procured from all suppliers
Branch offices with or without SAP SRM can procure goods via centrally negotiated contracts and thus benefit from more favorable prices
Full qualification of shopping baskets already in a catalog (cost centers, delivery addresses, etc)
Direct creation of a purchase order in the back end from within the catalog
Minimum system operation and maintenance costs because all organizations work with one application
Fully integrated into SAP SRM in Germany, France, Italy, Spain & Turkey
Ease of operation through procurement without SAP SRM in USA, Japan & Argentina
Transparent quotations, exact search results, including a similarity search