Content and Data Services
Hullabaloo's content and data services are delivered through a combination of proven and innovative processes, Domain Industry experts and technology.
Services Include: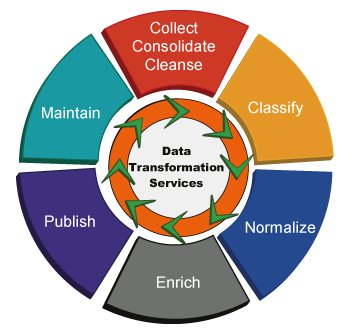 Hullabaloo provides a continuum of content services that address the data challenges faced by organisations today, from simple application of categorization and classification mapping to full data transformation, migration and integration. Hullabaloo's content factory is ISO 9001:2000 certified and ISO 8000 certified by
ECCMA, ensuring all data processed and delivered is to the stringent quality requirements of ISO 8000.
We specialize in providing transactable and rich electronic content for various industry segments:
Hullabaloo is set up to accept any type of data as input and can provide any output format.  Using the right mix of experienced content specialists and domain experts Hullabaloo's content and data services can benefit any organization that needs to streamline the collection, management and synchronisation of commerce quality data internally and externally across the enterprise.
Our collaborative web based development tools are designed to include all parties in the content build process, i.e. supplier, buyer, and service provider to ensure that content is built consistently and delivered to each customer's specification with guaranteed accuracy and service levels.