Central catalog search engine in procurement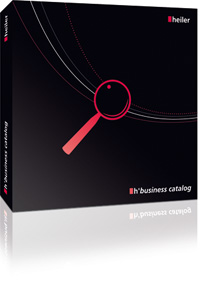 Heiler Business Catalog is the integrated electronic catalog solution for finding, visualizing, comparing and ordering products and services in purchasing. 

It is the central catalog session in international, heterogeneous system landscapes. It is available as a catalog integrated with SAP SRM or SAP ERP, or as a standalone solution. As a single point of search, Heiler Business Catalog optimizes process costs in purchasing.
Applications
Commercial benefits
Save process costs
Your staff should not search, but find. As a result of a massive reduction in the time taken to find suppliers and items, you will reduce the process costs in your company. 

Streamlined purchasing organization
Simple updates to entire catalog assortments and quick features for making changes to specific items simplify the catalog business in your purchasing department.

Reduction in errors and processing times
Dedicated, checked catalogs and suppliers can be specified for each member of staff or entire departments. Assurance of the quality of information in relation to commercial and descriptive information.

Expenditure monitoring
Automatic monitoring of supplier agreements and purchasing processes.

Find out more
Features
Fast acceptance
Fast acceptance through greatest user friendliness. 
Transfer shopping baskets
Users without SAP licenses can search in PBC, put together shopping baskets and then transfer these to SAP users for subsequent order processing. 
Integrated Content Management

Catalog data can  - individually or in the  form of mass data editing - be checked, supplemented, changed and made available to the users. 
Internet Sales Catalog
You provide your partners with the desired information quickly and efficiently - whether they want images, descriptions, technical data, price comparisons, discounts, cost centers or the order status. 
SAP integration

Simple integration in various SAP modules
Find out more